Sky News: Fighting Extremism: Anti-Terror Camp Opens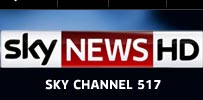 5:06pm UK, Saturday August 07, 2010
Sarah Gordon, Sky News Online
Muslims are taking part in the UK's first anti-terrorism summer camp as part of a "spiritual war" against Al Qaeda recruiters.
The three-day conference in Coventry is expected to attract around 1,300 young Muslims for sessions teaching religious arguments against extremists.
The event has been organised by the Pakistan-based Minhaj ul-Quran organisation whose leader, Dr Muhammad Tahir ul-Qadri, has launched a fatwa - or religious ruling - against terrorism.
His fatwa is described as a "resolute theological position, based on Islam's primary sources, on the necessity of eliminating terrorism".
During the summer camp, held at Warwick University, the document will be studied and a series of debates and talks about its content will be heard.

"I have announced an intellectual and spiritual war against extremism and terrorism," said Dr ul-Qadri.
"I believe this is the time for moderate Islamic scholars who believe in peace to stand up.
"I feel it is my duty to save the younger generation from radicalisation and wave of terroristic recruitment in the West."
Journalist Andrew Gilligan has told Sky News on the government's approach in dealing with extremism in the UK.
"We have been liberal where we should have been harsh - we have tolerated preachers of hate and we have engaged with people who believe in things, that if brought to pass, would fundamentally damage our society," he said.
"We have been harsh where we should have been liberal on things like stop and search, control orders and detention without charge," he added.
Students at the anti-terror camp will have the chance to discuss extremism
The Minhaj ul-Quran anti-terror camp comes at an ideal time for both Britain and Pakistan, after a political spat was sparked by Prime Minister David Cameron's outspoken criticism of Pakistan.
The PM had claimed Pakistan "exports" terrorism.
But the two men appeared to have put the disagreement behind them after meeting at Chequers where they had agreed to "intensify" co-operation on fighting terrorism.
President Zardari has been criticised in Pakistan for not returning after the worst flooding in the country's history claims over 1,600 lives
But an aid to the murdered former Prime Minister, Benazir Bhutto, has defended the President's decision to stay.
Conservative MP Rehman Chishti told Sky News: "The President is here, it is about getting aid for Pakistan.
"He said there is a splitting of the role - you have the Prime Minister who is in charge of the day-to-day activity on the ground in Pakistan.
"But he is here for international aid and the largest donor to Pakistan is the United Kingdom."
Source : http://news.sky.com/skynews/Home/UK-News/Muslims-Taking-Part-In-First-UK-Anti-Terrorism-Camp-As-Part-Of-Spiritual-War-Against-Al-Qaeda/Article/201008115678606?lpos=UK_News_First_UK_News_Article_Teaser_Region_1&lid=ARTICLE_15678606_Muslims_Taking_Part_In_F