Annual Sayyida-e-Kainat Conference 2007 under MWL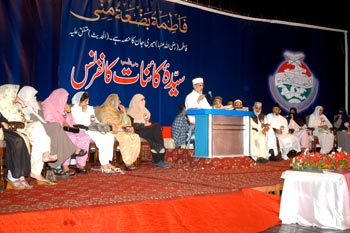 Minhaj-ul-Quran Women League held the 3rd Annual Syeda Kainat (RA) Conference at Al-Hamrah Hall, Lahore on 26th September; 2007. Shaykh-ul-Islam Dr. Muhammad Tahir-ul-Qadri presided over the magnificent Conference. A vast majority of women from various sections of society including the deans and heads of different departments of Universities and colleges were present to attend the conference. Among notable ladies were Miss Maemoona Shaheen, Nasira Naseer, Syeda Musvi, the Central Leader of Imamia Organization, Dr. Farhana Sarfraz from Karachi University, Nabiha Indaleeb from Jamia Naeemia Sirajia, Lahore, Misbah Tariq , president of Aurat Foundation, Mrs. Akram Rana, the Director of Islamic Research Centre Baha ud din Zakria University, Dr. Fouzia Saleemi, Ex- chair person of Punjab Text Book Board, Miss Tahira Firdous, Lecturer in Islamic Studies, Dr. Samar Fatima, Dean of Islamic Faculty, the University of Punjab, signora Fatima Butt, Dr. Rukhshanda Nawaz from Agricultural University, Faisalabad, Dr. Khalida Usmani, Dr. Farida Yousaf, Shaista Bukhari. Besides Miskeen Faiz ur Rehman Durrani, Amir-e-Tehreek Minhaj-ul-Quran International, Nazim-e-Aala Dr. Raheeq Ahmad Abbasi, Peer Syed Khalil-ur-Rehman Chishti, Syed Ali Ghazznafar Kararvi, Miss Farrah Naz Nazima Minhaj ul Quran Women League and other honorable guests occupied the chairs on stage.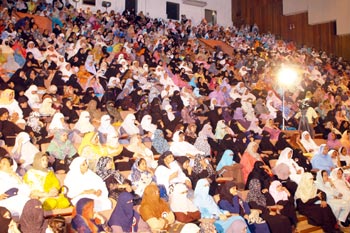 The programme started with the recitation of the verses of the Holy Quran and followed by the Naat of Aqa (SAW). Al-Hamra Hall was crowded with a vast majority of women from different sections of society. The women who did not have the seat were standing in galleries and steps of the hall. The projector and many TV sets and a big standing Screen were set up to avoid inconvenience and facilitate the audience.
The women accorded a warm and hearty welcome to Shaykh-ul-Islam on his Arrival. All the women stood up on their seats and chanted different slogans to express their love for Shaykh-ul-Islam. It seemed as if they were waiting anxiously to catch his glimpse. Shaykh-ul-Islam lauded their feelings and passion for noble cause of Islam. I recall the lines from T.S Eliot's poem.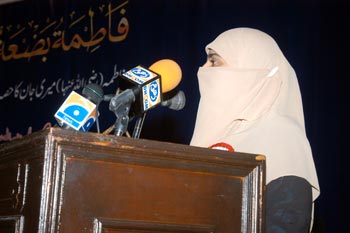 Miss Farrah Naz, Nazima Minhaj-ul-Quran Women League gave welcoming address. In her speech she said, many thanks praises to Allah Almighty, who showered unfathomable blessings and helped them to manage the 3rd Annual Conference in the Holy month of Ramadhan. She expressed her gratitude for all the central working ladies of the movement specially Sister League and Women League France who sponsored them to hold the auspicious Conference. She also gave a brief introduction of all the guests from all the corners of the Pakistan.
She said in her speech that Minhaj-ul-Quran Women League has provided a sound platform to women in these heavy odds. She said they can learn the noble virtues of the exalted daughter of the Holy Prophet (SAW). She said their sole purpose to hold this conference is to preach and convey the virtues of Syeda Kainat (May Allah be Pleased with Her) to every daughter, mother and sister of our nation.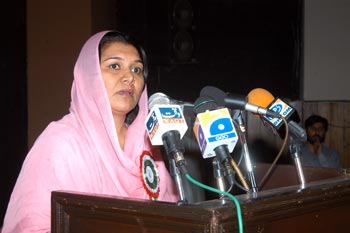 Dr. Syeda Farhana from Karachi University said in her speech that it is very unfortunate that they ignore the importance of spiritual training in every day life. She said, a mother plays a vital role in the spiritual and intellectual growth of Children. She said, the women must know that Hazrat Fatima (May Allah be please with her) led every moment of her life promoting the teachings of her father, She copied and followed her father with true spirit in simplicity and humbleness. She always wore simple dress and never showed her pride being the daughter of the Prophet (SAW). If we compare our life with hers, it becomes quite vivid that we have forgotten noble traditions and values of Islam. She said, media and teachers are responsible for this heavy loss because they never lay stress on these wonderful values.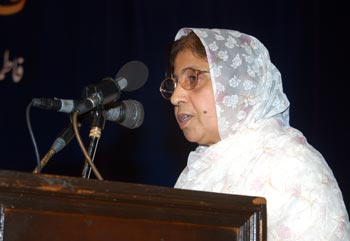 Dr. Fauzia Saleemi, Ex-chair person of Punjab Text Book Board said Islam is a complete code of life and crafted different laws and rules to uphold the rights of women and bring prosperity and harmony in their life. She said, it is only Islam that gives an exlated and respectable status in society.
Miss Tahira Firdous from Quetta University, Dr. Samar Fatima from Punjab University, and Rukhshanda Nawaz from Agriculture University Faisal Abad said that Allah Almighty has explained all the duties and rights of women in Sura Nisa and Sura Nur. They emphasized that they should play an honorable role of Muslim lady and train our off spring well according to the remarkable teachings of Islam.
Firdous Butt and Dr. Akram Rana also shed light on the different aspects of the character and life of Hazrat Fatima (RA). They stressed the ladies to follow Hazrat Fatima (RA) as their role model.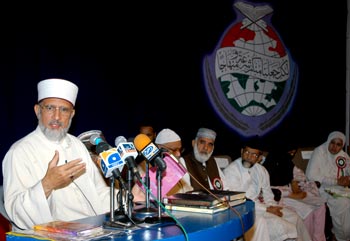 Shaykh-ul-Islam Dr. Muhammad Tahir-ul-Qadri's speech started at 1:15 A.M. the subject was Syeda Kainat in the light of the Holy Quran. He said, Hazrat Fatima (RA) is the the abundance Allah Almighty bestowed upon the Holy Prophet (SAW). He said, Allah Almighty mentioned her virtues five times in the Holy Quran. The Holy Prophet (SAW) said, "Fatima's off-spring is my off-spring." The Holy Prophet (SAW) never called Hazrat Imam Hassan and Hussain (RA) as his grand-son but he always declared them in public as his own sons. Their being sons of the holy Prophet (SAW) is verified by an obvious verse of the Holy Quran. The Holy Prophet (SAW) decreed to love his family members (Ahl-e-bait). He said "a person who enjoys the true love of my family members will never deviate and enjoy sound faith."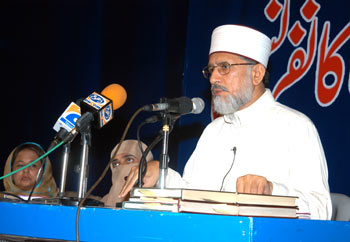 Shaykh-ul-Islam said that as the holy Prophet (SAW) is the lord (syed) of the universe. In the same manner Hazrat Fatima (RA), Hazrat Imam Hassan and Hussain (RA) are that is why Hazrat Fatima (RA) is entitled as Syeda Kainat. He said, all the three sons of the Holy Prophet (SAW) passed away in their childhood because Aqa (SAW) is the seal of Prophet. Allah Almighty chose Syeda Fatima (RA) to carry the chain of the off spring of the Holy Prophpet (SAW). Now till the day of resurrection, every syed would be from the chain of Hazrat Hassan or Hussain (RA). He said that Hazrat Imam Hussain (RA) took stand against the exploitation of Yazid and proved that Fatima's son can not compromise with tyranny of an unjust ruler. He said that each dictator holds the traits of Qaroon, Firoun, Namrood and Yazid and think the straight forward people as their enemy. He said that a person who does not feel excited at the mention of the family of the holy Prophet is hypocrite.
He inspires all the women to adapt their life in accordance with the life of Hazrat Fatima and train their children as she did. He said our lives are hollow and empty because we do not follow our great hero and heroines. He said now days the people have changed their ideals and it is obligatory to every woman to make their children familiar with the life style of our great and exalted men in history who promote Islamic values round the globe. He said the present era is very tempting and fanciful. The major power and force that can save the youth and children from this storm of obscenity and vulgarity are women because they can influence their children the most.